Do you have gaps between your teeth? Do you have an overbite? If you do, you may think there's nothing that can be done to fix this. That's not the case. In orthodontics, we offer family treatment options for children and adults who want to improve their smile. Our comprehensive orthodontic services are designed to use the most innovative solutions, while our experienced and trusted orthodontist is ready to work with you. Lovett Dental North Heights can help individuals and families get the orthodontics they need for a healthy smile.
Who Can Use Orthodontics?
It is common for people to think that orthodontic services are something meant for just older children. That is not the case. Our team starts monitoring children at a younger age to ensure they do not need orthodontic services. In addition to this, adults can also benefit from these specialty services. Today's braces and orthodontic applications can help many people to see improvement, including those who have teeth that are fully grown into place.
What If You Don't Want People to Know You Have Braces?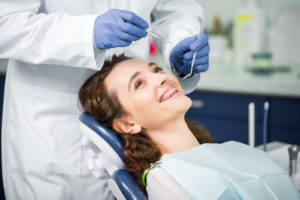 This is a considerable concern for many people, and rightfully so. Our smile is a key part of the first impression we make on others. That's why we often encourage you to utilize some of the latest orthodontic services. For example, our clear tray aligners work very well to improve your smile, but they are clear, which means no one knows they are there unless you tell them that they are. Some of the benefits of these products include:
No one knows they are present.
They work very well to provide accurate alignment.
They tend to work faster to produce the results you want.
They are more affordable than other products.
Clear aligners are also able to be removed so you can properly clean your teeth.
Are Other Braces Still Available?
There are several options we offer for orthodontic services. Our orthodontist will work with you to determine which type of treatment is best for you. We will then make recommendations about the options best suited to your needs and goals. Metal braces and ceramic braces are two of the most common and effective options available today.
What Other Services Are Necessary Before You Can Get Orthodontics?
Sometimes, it is important for us to provide you with treatment for other dental problems before applying your orthodontics solutions. We may make recommendations for you, such as:
Tooth extractions for decay
Periodontal disease treatment
This does not happen in every situation. Often, we work with our clients for years, providing them with one-on-one care on a routine basis. We learn that you may benefit from seeing an orthodontist during routine checkups and x-rays. As soon as we think you may benefit, we will make recommendations to see orthodontics.
What Are the Benefits of Our Orthodontic Services?
There may be times when you need orthodontics. Don't be afraid to reach out to our team to learn more about how we can help you. Our team uses the most innovative and modern techniques and procedures available. This can help to reduce your risks and improves your outcomes significantly. Don't wait to come in to see our team to learn more about how we can help you.
Invest in the Future of Your Smile at Lovett Dental North Heights
Orthodontics is one of the most important investments you can make in your oral health and your smile itself. Our orthodontic services are designed to be comprehensive, providing you with everything you need to ensure the best possible outcome. We encourage you to take the time right now to contact Lovett Dental North Heights in North Houston to schedule a consultation with our orthodontist to learn more about your options. Call 832.626.2153 today.