Correcting crooked teeth has never been easier. If you're unhappy with the alignment of your teeth, we invite you to visit our North Heights orthodontist office located on North Shepherd Drive in Houston. We offer many types of braces and teeth alignment options to our patients. Whether you are looking to get braces as an adult or are interested in a children's orthodontist, Lovett North Heights offers braces and other specialty dental services at affordable prices.
Should I Get Braces?
If you are embarrassed to smile due to crooked teeth, you should definitely consider getting braces. Dental braces are some of the most commonly used dental appliances available. At Lovett Dental North Heights, you can get the straight teeth you've been hoping for in only a few months. If you feel even the slightest bit self-conscious about your teeth, getting braces can really change your outlook on life. At Lovett Dental North Heights, our dentists recommend that you visit an orthodontist for advice about braces and correcting crooked teeth. We offer flexible scheduling, and our Houston orthodontists are committed to providing efficient Houston sedation dentistry when necessary. Contact us at 832-617-5531 to learn more about getting braces.
What If You Don't Want People to Know You Have Braces?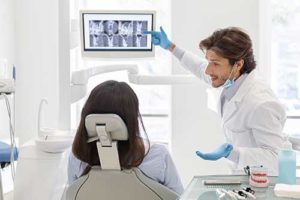 Many people are reluctant to wear braces. Our smile is a key part of the first impression we make on others. That's why we often encourage you to utilize some of the latest orthodontic services. For example, our clear tray aligners work very well to improve your smile. Some of the benefits of these products include:
No one knows they are present.
They work very well to provide accurate alignment.
They tend to work faster to produce the results you want.
They are more affordable than other products.
Clear aligners are also able to be removed so you can properly clean your teeth.
Are Dental Braces Right for Me?
When you visit our Houston North Heights dental office, we'll examine your teeth, take X-rays, and provide you with more insight into the outcomes you can expect from dental braces. We offer a range of orthodontic options, including:
Metal Braces
Metal braces are small stainless steel brackets that adhere to the front of the teeth. Over time, your Houston orthodontist will adjust them to put a small amount of pressure on these teeth. This allows the teeth to shift into the proper alignment. Metal braces are affordable and very effective.
Ceramic Braces
Ceramic braces are similar to metal braces, but they are less noticeable. Your orthodontist will attach ceramic braces to the teeth and make adjustments as necessary. Aligning your teeth with ceramic braces has never been easier.
Clear Aligner Trays
Clear aligner trays provide teeth straightening. Patients wear these trays 23 hours a day. The trays are virtually unnoticeable and will straighten your teeth in a matter of months. Each tray is customized to fit comfortably over your teeth. The trays apply small amounts of pressure to properly change the alignment of your teeth. Clear tray aligners work better than many other products and tend to work faster as well. They are difficult to see and can be removed for brushing and flossing.
What Other Services Are Necessary Before You Can Get Braces?
Sometimes, it is important for us to provide you with treatment for other dental problems before applying your orthodontics solutions. We may make recommendations for you, such as:
This does not happen in every situation. Often, we work with our clients for years, providing them with one-on-one care on a routine basis. We learn that you may benefit from seeing an orthodontist during routine checkups and X-rays. As soon as we think you may benefit, we will make recommendations to see orthodontics.
Periodontics
Good dental health is about more than your teeth. People need to make sure their gums are healthy as well. Plaque and tartar build-up can lead to inflammation and infections that damage the tissue in your mouth around your teeth. Unhealthy gums can lead to decay, tooth loss, root canals, and severe jaw pain. Our periodontal treatments use the latest techniques and equipment to prevent, diagnose, and treat gum disease. Before getting braces as an adult, we recommend having a Houston periodontist conduct a full exam on your gums. Periodontal services sometimes require surgical interventions; however, at Lovett North Heights, we offer plenty of sedation dentistry options.

Invest in the Future of Your Smile at Lovett Dental North Heights
Investing in dental specialist services will keep your smile looking young and healthy. Our orthodontic services at Lovett Dental North Heights are affordable and customizable. We encourage you to take the time right now to contact Lovett Dental North Heights in North Houston to schedule a consultation with our orthodontist to learn more about your options. Call 832-617-5531 today.