Oral surgery refers to any surgical procedure that is performed on the mouth or jaw. Surgery of any type is a scary proposition, but getting oral surgery can relieve pain, improve your health, and give you a better quality of life. At Lovett Dental North Heights, we offer oral surgery procedures in addition to general dentistry. This allows us to meet all your dental needs.
What Is the Difference Between a General Dentist and an Oral Surgeon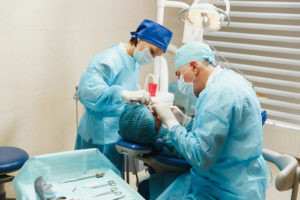 Both a general dentist and an oral surgeon are qualified to perform most oral surgery procedures. Becoming a general dentist requires seven to eight years of education. After they finish school, they must pass a state licensing exam. Oral surgeons spend an additional four to six years studying oral surgical procedures with a hospital residency.
Dentists may be comfortable performing simple procedures like uncomplicated extractions and refer patients for more complex procedures. In addition to additional study, oral surgeons focus solely on surgical dental procedures. This gives them far more experience with these procedures than a general dentist who may occasionally perform the procedure.
What Procedures do Oral Surgeons Perform?
The procedures commonly performed by oral surgeons can be divided into three categories.
These are:
Tooth Oral Surgery Procedures
A general dentist will often perform an uncomplicated tooth extraction. However, when the tooth is impacted, oral surgery is required. An impacted tooth doesn't fully emerge from the gum tissue. Instead, it remains trapped between the gum and jawline. It commonly happens with wisdom teeth, but it can occur with other teeth as well. An impacted tooth can lead to pain, swelling, and infection.
Oral surgeons can also install dental implants. Instead of using dentures or a bridge to replace missing teeth, implants are permanently fixed to your jawbone. It should look and perform like your original tooth. Many patients find dental surgery an ideal alternative to dentures.
Jaw Correction
When your jaw bone doesn't grow evenly, it can cause discomfort and functional problems. Improper tooth alignment, difficulty speaking, or eating are common symptoms of jaw misalignment. Some cases can be corrected with braces and other dental appliances. More severe cases require surgery to position or remove part of the jaw properly.
TMJ is a common dental disorder. The TMJ joint connects the top and lower jawbones. The most common TMJ complaints are jaw pain and headaches. Some cases can be treated with medications and physical therapy. Other patients benefit from surgery to correct joints dysfunction.
Facial Surgical Procedures
Dental surgery can repair facial injuries. Car accidents and falls are common causes of facial injuries. If there are broken bones in the face, surgery can set the bones, so they heal properly. In severe cases, hardware may be necessary to keep the bones in place.
Facial infections can be life-threatening and should be considered an emergency. Severe pain and swelling are often symptoms of facial infection. An oral surgeon can diagnose the infection and drain the area if needed. If a tooth is infected, it may need surgical treatment.
The Lovett Dental North Heights Difference
In most cases, a general dentist will refer patients for oral surgery. At Lovett Dental North Heights, we can care for all your dental needs. This allows you to develop a relationship with our staff. Our range of expertise with a wide array of procedures means that we can diagnose problems and offer treatments. If you think you need dental surgery or a checkup, contact us at 832-617-5531.