Your teeth are critically important to your overall health. Yet, you may not be doing everything you can to safeguard them. Preventative dentistry is a sector of dental health that focuses on improving dental health outcomes through prevention. We teach you about the preventive dental care you can do at home and in our office. However, we also provide preventative dentistry services that can further enhance your smile. At Lovett Dental North Heights in Texas, we make it our priority to help you. Contact our team today at 832-617-5531 to learn more.
Is Preventative Dentistry Right for You?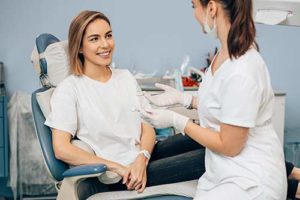 How do you know you need to improve your current preventive dental care? The key here is that you don't know. Some people develop severe dental problems at an early age. Others already have them and are looking for ways to slow things down. Our team offers preventive dentistry services and general dental care that can address these needs. You may benefit from this type of improved care for a range of reasons, such as:
You've been told you have the early signs of gum disease
You struggle with tooth pain or infections
You have had numerous cavities, fillings, and root canals
Your child needs to learn how to care for his or her teeth a bit better
You want to do whatever it takes to keep your natural smile longer
That's where our preventative dental care comes into play. We can provide you with solutions to restore your dental health and even help you keep it healthy long term.
What Are the Preventative Dentistry Services That Can Do This for You?
There are many things you can do to improve preventive dental care. At the heart of it is giving you support at home. Brushing and flossing throughout the day can help your smile stay healthy. Coming in every six months for a routine checkup can also help. You may benefit from teeth cleaning and x-rays at every visit. These visits are an essential starting point for maintaining oral health.
In preventive dentistry, we may recommend some of the following services as a way further to prevent the onset of complications or dental health problems. These preventative dentistry services are never suggested unless they are right for you.
Dental Sealants: Those with a history of cavities or fillings may benefit from sealants. They help to protect the teeth from the onset of further damage by locking out bacteria. You'll find that sealants are an excellent investment for cavity-prone kids. They can also be one of the best tools for those who want to avoid cavities in adulthood.
Dental Cleanings: A deep cleaning may be recommended to you if you have:
Bleeding gums
Gums that pull away from the teeth
Loose teeth
Decaying tooth structures from bacteria buildup
Hard-to-improve bad breath
Deep cleanings can help to remove these problems for you for good. They work very effectively at removing plaque buildup and can provide you with a way to avoid the onset of painful periodontal disease. If left untreated, it can cause tooth loss.
Fluoride Treatments: Some of our clients may benefit from preventative dental care related to increased fluoride use. This mineral is critical for maintaining healthy teeth. Early breakdown of the tooth's structure may be a concern here. Preventive dentistry in Texas can help by providing specialized treatments to increase fluoride access.
Ready to Get Started? Call Lovett Dental North Heights
Preventative dentistry professionals like ours are dedicated to helping you to safeguard your smile from the risks of the future. Preventative dental care is like a down payment on protecting your smile. Our preventative dentistry services are always the most modern and innovative available. That's why you should take action today. Learn more by calling Lovett Dental North Heights in Texas to find out how we can help you. Schedule an appointment at 832-617-5531 now.