At Lovett Dental North Heights, we provide dental bonding services for a range of reasons. We are a full-service general dental clinic that works with patients of all ages. If you have a chipped tooth or you are looking to improve your smile, this can be done with dental bonding and other methods to improve the shape of your teeth. The process is done using resin and a special light to harden the resin and permanently bond it to your tooth. Even if you have chipped a front tooth, dental bonding can fix the problem and give you back your smile.
Front Teeth Bonding
A chipped front tooth is going to have a direct impact on your smile. While you might be worried that very little can be done to repair your tooth, front teeth bonding is the answer. Our dentist will talk to you about your options when it comes to repairing your front tooth. Dental bonding is done by placing a tooth-colored resin on your tooth and molding it into the right shape. Once the resin is the right size and shape, a special light is used to harden the material and make the bond permanent.
Teeth Bonding for Tooth Repair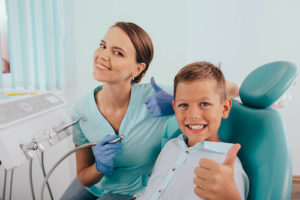 Teeth bonding can do more than fix a chipped tooth. If you need a temporary cover for your tooth while waiting for veneers, a bond can be created to protect the tooth underneath. If your tooth is discolored, bonding can be used to match the color of the rest of your teeth. Bonding material can be used to:
Protect a tooth while you wait for a more comprehensive repair
Lengthen a tooth for cosmetic purposes
Change the color of a tooth, so it better matches in your mouth
replace a missing part of your tooth because of a chip
When you need to repair a chipped tooth or want to improve your smile, talk to our dental office about your options. We can provide a wide range of solutions to give you the smile you deserve.
Strategies to Improve Your Smile
Dental bonding is only one tool used by dentists to improve your smile. Whether you have discolored teeth, a chip, or a poorly shaped tooth, there are ways your smile can be enhanced. Dental veneers are an effective way to give your teeth a more uniform appearance. If you have a number of teeth that you want to change or don't like your smile's overall look, veneers are used to cover up your existing teeth. Veneers work by:
Covering your existing teeth with porcelain or synthetic material
Adhering permanently to your existing teeth
Giving you a uniform, natural-looking smile
Providing you a solution to discolored teeth
No matter what is going on with your smile, cosmetic dentistry in Houston can make a positive impact. Even the smallest changes to your front teeth can give you the confidence you want. If you have a tooth that is too short, dental bonding can create a better tooth shape. If you have tried whitening and it didn't work for you, veneers can cover up your teeth to give you the color you want. Veneers and dental bonding are treated just like your natural teeth.
Schedule Your Dental Bonding Services Now
If you need front teeth bonding, contact Lovett Dental North Heights at 832-617-5531 and schedule an appointment. Whether you need front teeth bonding because of a chipped tooth or looking to have a tooth lengthened to match the rest of your smile, contact us today to see how we can help. Dental bonding is just one of the cosmetic dental services we offer. Discover how else we can serve you today.