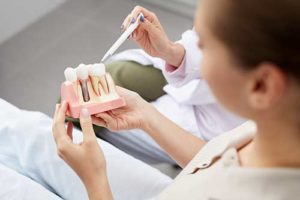 If you have a deep or painful cavity that has affected the appearance of a tooth or has caused your tooth to fall out, a dental implant might be a good option for you. Even if the tooth in question tooth isn't visible when you smile, a non-functioning tooth will lead to severe dental issues if it's left untreated. Failing to treat a dysfunctional tooth will lead to more extensive and expensive dental work down the line. Through specialty dental services, our dentists will be able to improve your oral health through dental implants.
A Dental Implant Is a Brand New Tooth
If you are having tooth problems due to decay or injury, Lovett Dental North Heights can repair this dental problem quickly so you can get back to your life. We install dental implants every day, so the procedure will only take an hour or two. Getting a dental implant might be a viable option to replace a missing or dysfunctional tooth. If you need a dental implant, the decision to get one might be the best decision you've ever made. Failing to replace a tooth that is no longer functioning properly can cause the following dental problems:
Decay in nearby teeth
Movement of nearby teeth
Difficulty chewing
Speech problems
Bone loss
Bad breath
Infection
Persistent toothache
Altered facial features
Low self-esteem
Getting a Dental Implant After an Emergency
A dental emergency involves an injury, infection, or another ailment that requires immediate dental treatment. It often involves severe pain. The initial stage of a dental emergency does not always bring pain. But the pain will come if you don't treat it immediately. If you experience any of these conditions, you need to see a dentist right away:
Dental cavity
Cracked tooth
Abscess
Toothache
Loss of a permanent tooth
Any kind of jaw or mouth trauma
If Your Tooth Is Knocked Out, Don't Panic; Call Lovett Dental North Heights
Dental emergencies can be caused by accidents, sports injuries, biting into hard foods, and skipping your 6-month dental cleaning. These are a few of the most common dental emergencies we see at Lovett Dental North Heights in North Houston (and what to do if you experience any of them).
Does Getting a Dental Implant Hurt?
Having a dental implant installed is similar to having a cavity filled. Your dentist will place a small device where the root of the tooth used to be. Although getting a dental implant often requires multiple appointments, it's worth the time and money because you will end up with a new permanent tooth. Having a tooth replaced should not cause you or your family anxiety. It is important to find a dentist who is committed to providing pain-free treatment to patients. Our North Heights dental office offers plenty of sedation dentistry options, and our staff has extensive training in sedation dentistry.
Caring for Dental Implants
After your jaw has attached firmly to the surface of the new implant, your dentist will install your permanent tooth. Proper jaw integration usually takes around 3 to 6 months. While your jaw heals, you'll want to avoid crunchy, sticky foods that are difficult to chew. You will also definitely want to be careful when flossing between your teeth; your dentist could advise you to avoid flossing altogether after the procedure. You may experience some tooth sensitivity for the first few days after getting a dental implant. Still, most of our patients report only minimal discomfort, similar to the discomfort after a cavity is filled.
Dental Implants at Lovett Dental North Heights
Our convenient hours at Lovett Dental North Heights allow us to see patients outside of typical work hours. This can be especially helpful for working adults or children who don't want to miss school. Please contact Lovett Dental North Heights to get information about dental implants.