At Lovett Dental North Heights, we are here to provide quality family dentistry services with compassion. We understand that many people are nervous when going to the dentist, and our gentle approach to family dentistry makes it easy for you and everyone in your family to get the care they deserve. Whether you are looking to get a routine dental cleaning or your child has a dental emergency, it's time to see how Lovett Dental North Heights can care for you. We provide a range of dental services, and we know that we can take good care of you and your family members.
Taking Care of Your Family's Smile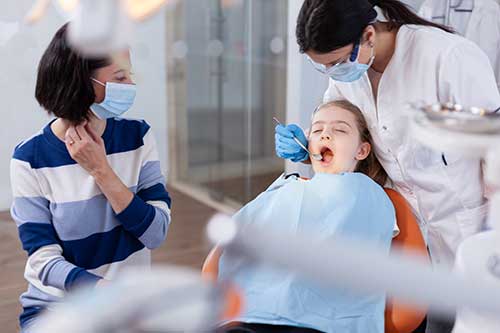 There are several reasons that you may not love your smile. You might have a tooth that is not a great shape, have a missing tooth, or have teeth that aren't as white as you would like. Whether you have one missing tooth or you need a full set of dentures, Lovett Dental North Heights is ready to help. We provide family dentistry services that include:
Complete dental exams and cleanings for people of all ages
Orthodontic care to straighten teeth
The implant used to replace a missing tooth or secure dentures
Resolution of difficult to diagnose tooth pain
Our goal is to provide a professional, comfortable environment where you and your children can come in and get the dental work you need. From routine cleanings to emergency dental work, we know what it takes to provide quality dental care.
Veneers and Dental Implants
If you are concerned about the whiteness of your teeth, or the shape, you can get dental veneers. These are thin pieces of porcelain or other synthetic material that fit your existing teeth and are permanently bonded to your teeth. Veneers make it possible to have a natural, white smile that is less susceptible to stains. When you have veneers installed, a small layer of the enamel on your teeth is removed to create a permanent bond between the veneer and your teeth. If you have missing teeth, dental implants can create one tooth with a titanium rod and dental crown. Implants are used to secure dentures or to replace an area of missing teeth.
Looking for a Family Dentist in Houston?
Located in Houston, Lovett Dental North Heights provides exceptional care for you and your whole family. Our dentists have been practicing dentistry for many years, and we provide general and preventive dentistry for patients of all ages. We understand that building a dental practice means providing five-star quality, comfort, and a close connection between dentist and patient for the following services:

What Lovett Dental North Heights Has to Offer
You will find a wide variety of dental services at Lovett North Heights for children, adolescents, and adults alike. For general dentistry, visit us for a six-month checkup and teeth cleaning twice a year. We use professional tools that make your visits as relaxing and comfortable as possible. 
Orthodontics
Our dentists offer the full array of services, including braces and metal-free teeth straightening for teens and adults. We also offer dentures, cosmetic bonding, dental implants, tooth-colored fillings, porcelain crowns, and teeth whitening. Finally, our skilled specialists are experts in performing tooth extractions, root canals, periodontics, and bone grafts. If you are looking to straighten your teeth, Lovett North Heights offers many orthodontic procedures.

When You Have a Dental Emergency
Our family dental practice handles dental emergencies on an as-needed basis. We work hard to always keep the room in our schedule for patients who need to see us in the event of an emergency. A dental emergency can include:
An injury that causes a tooth to become loose or dislodged.
Chipping a tooth that causes pain, discomfort, or difficulty chewing.
Experiencing sudden, sharp pain in one of your teeth.
An abscess in your gum line needing treatment for an infection.
Dental pain is difficult to deal with. If you have damaged a tooth, you may be in serious pain. When you cannot control your dental pain, it's important to get your tooth checked to avoid further complications. A broken or chipped tooth can become infected, leading to a more difficult dental visit.
Quality Family Dentistry at Lovett Dental North Heights
It's important to work with a family dental practice that you trust. With our team, you will get the care and compassion you deserve when you visit our office. Our goal is to provide excellent dentistry services for people of all ages. Even when you fear the dentist, we will work to ease your fears and make your dental visit easier. To set up an appointment, contact Lovett Dental North Heights today at 832-617-5531. Your dental care is important, and we want you to get the dental services you deserve.