Everyone needs to ensure that they have access to reliable oral health care. At Lovett Dental North Heights, we are here to provide this to you and your family. In addition to preventive care, such as regular cleanings, our team is proud to provide periodontics. If you have been told that you need to see a periodontist, you need to make sure that you understand what will happen at this visit. We offer comprehensive dental care and a variety of specialty services like periodontal treatment.
What Is a Periodontist?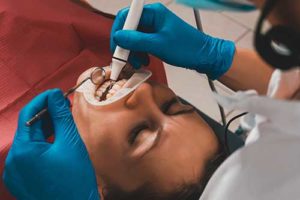 A periodontist is a dental specialist who focuses on diagnosing, treating, and preventing periodontal disease or gum disease. Furthermore, a periodontist also specializes in the placement of dental implants. Dental implants can be used to replace one missing tooth or an entire row of teeth. Millions of people in the United States are missing all of their teeth in their upper or lower jaw. Thus, a periodontist specializes in restoring the look, feel, and use of an individual's teeth.
For these reasons, if you are missing one or more teeth, then a dental implant might be right for you. Lovett Dental North Heights is honored to provide all of our patients with access to dental implants if they need them.
How Is a Dental Implant Placed?
Dental implants are among the most common procedures performed in the field of periodontics. To place a dental implant, a trained periodontist will:
Take a look at the jaw gap and make sure that there is enough room to place a dental implant.
Assess the gum tissue's health and the surrounding jaw bone to make sure that it can support a dental screw.
Assess the shading of the surrounding teeth to make sure that the cap matches the color of the surrounding teeth.
Place a screw in the jawbone and ensure that the jawbone accepts it.
Complete the procedure by adding a cap to the screw itself.
Numerous benefits come with placing a dental implant. One of the biggest benefits is that a dental implant functions just like a native tooth. This means that if you have a dental implant, you have to take care of it the same way you do your surrounding teeth. You do not have to make any dietary modifications.
Who Requires the Attention of a Periodontist?
One of the most common questions that people have is when they should see a periodontist. In some cases, the issue may not be manageable by a general dentist. If the periodontal disease continues to progress, a general dentist might refer the patient to a periodontist. It is important to treat these problems sooner rather than later, as the sooner they are treated, the better the prognosis.
When it comes to periodontics, it is a good idea to speak to your general dentist first. Then, if he or she believes that you require the attention of someone who specializes in periodontics, they will write the referral at that time. Rely on the team from Lovett Dental North Heights for all of your dental needs.
Contact Lovett Dental North Heights Today To Learn More About Periodontics
If you have any questions or concerns about your periodontal treatment, then you should rely on the trained professionals at Lovett Dental North Heights. Our team places the needs of our patients first. In addition to providing emergency services, we provide preventive care, orthodontics, and periodontics. We would be happy to take care of yourself and your family as well. If you would like to learn more about our services, please contact us today at 832-617-5531 to make an appointment with one of our oral health professionals.