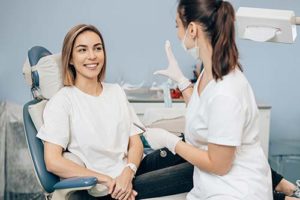 We all know the importance of brushing and flossing after every meal to keep our teeth healthy and maintain a pleasing smile. But maintaining good overall oral health also means regularly scheduling dental appointments so your Lovett Dental North Heights dentist can make sure there are no issues. General dentistry includes check-ups and several basic services and treatments designed to keep your teeth as healthy as possible. Annual check-ups or appointments every six months, which most dental experts prefer, allow your dentist to monitor your teeth and prevent any potential issues. If you and your family are looking for a dentist in your area, Lovett Dental North Heights can help.
Why Seeing a General Dentist Is Important
When you first arrive, our friendly staff will greet you at our office and make sure you are comfortable. Your dentist will conduct a general dental examination to determine what, if any, issues you may have or what your dental history has been. Our dentists will advise you on what you can do to continue maintaining your oral health and schedule a future appointment to get you in the habit of regular check-ups.
Regularly scheduled appointments with a general dentist ensure that any issues that could arise with your oral health are immediately taken care of. The best treatment and procedure for dental health is preventative. General dentistry makes sure your teeth and gums are as healthy as they need to be. During your exam, your dentist may recommend an in-office procedure to ensure continued well-being.
Our General Dentistry Services
If you're looking for general dentistry services in the North Heights area of Houston, TX, Lovett Dental North Heights has what you need. Our North Heights location offers:
Teeth cleaning: Professional teeth cleaning is an excellent way to improve your daily brushing and flossing. Cleanings get into the hard-to-reach areas of your mouth.
Fluoride treatments: Fluoride is a naturally occurring mineral. It is also the active ingredient in most mouthwashes and toothpaste. It strengthens the enamel or protective layer of your teeth. A fluoride treatment is a more concentrated form of this that can, in some cases, reverse the damage from cavities.
Dental sealants: This is a simple procedure where the surface of teeth is covered in a varnish that reduces the risk of cavities developing.
Fillings: When cavities do arise, your general dentist can use various filling types to prevent it from causing any further damage. Most fillings can now be colored matches to your teeth.
Our dentists at Lovett Dental North Heights are also available when you have a dental emergency like sudden pain or tooth trauma, including cracked or broken teeth.
Contact Lovett Dental North Heights
Lovett Dental North Heights provides general dentistry and all of the dental services most individuals and families need. Our professional staff is welcoming and makes visiting the dentist a positive experience. Aside from general dentistry services, we also offer:
Cosmetic dentistry: These procedures and practices, such as teeth whitening, help brighten your smile and improve the look of your teeth.
Pediatric dentistry: Small children and adolescents have unique dental needs. For example, alignment issues may arise, requiring orthodontics or braces. Our team of dentists is well-versed in treating children and helping them feel comfortable and meet their needs.
Specialty services: Sometimes, individuals need specialized procedures to address their issues, such as a root canal, tooth extraction, dental implants, or oral surgery. Our dentists also provide periodontic services that work to prevent and treat gum disease.
No matter what your needs are, Lovett Dental North Heights can accommodate you. So reach out to us today at 832-617-5531 to schedule a consultation or make an appointment. We look forward to meeting your general dentistry needs.