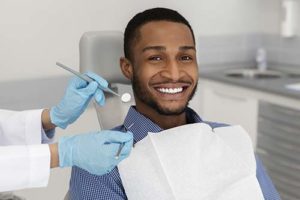 Cosmetic dentistry changes Houstonians' lives for the better. We believe no one should be embarrassed by their smile. With our cosmetic dentistry services, the smile you want is within your reach. Whether you are preparing for a date, reunion, wedding, job interview, or an anniversary, we'll get your smile looking its best. There is no reason to dread having your picture taken. Photos will be a pleasure again, and you'll look and feel great.
Our Cosmetic Dentistry Services
We provide comprehensive services for cosmetic dentistry at Lovett Dental North Heights, including the following dental specialty areas:
Give Yourself a Brighter Smile
A brighter smile instills an unshakable sense of confidence that's easily noticeable by others. There is absolutely no reason to hide from the camera, thanks to Lovett Dental North Heights. There's no reason to deal with conditions such as:
Chips and cracks in teeth
Crowding of teeth
Gaps in teeth
Overbites
Misshapen teeth
Crooked teeth
Popular Cosmetic Dentistry Services in Houston's North Heights
Orthodontic dental services are the best way to straighten your teeth. The American Association of Orthodontists (AAO®) offers a wealth of information regarding how braces, retainers, aligners, and appliances work to create a bright, beautiful smile. Visit the AAO ® website for more information about orthodontics in Houston.
In Today's World, Orthodontic Services Are the New Normal
Some of the most recent developments in Houston orthodontics include clear teeth aligners. These clear aligning trays are practically undetectable and offer a convenient and comfortable way to a beautifully straight smile. Another recent development is Fastbraces®. With these braces, you'll see results in only a few months. For a truly amazing smile, orthodontics services at Lovett Dental are a great option.
Teeth Whitening Options at Lovett Dental North Heights
A dazzling white smile is possible with the teeth whitening services we offer. You'll see results in as little as one appointment with our in-office cosmetic treatments. At Lovett Dental North Heights, we use Philips Zoom White and Venus White Max. They offer outstanding, lasting results for our patients. For those who would like to whiten their smile at home, we also offer tooth whitening kits. These are a great addition to supplement in-office treatments or if you're seeking a more economical option for teeth whitening.
Our dentists can create custom trays that match your teeth. The ADA approves of whitening as a reasonable and effective measure to remove stains and restore the natural color of your teeth. You can find more information on our teeth whitening procedures.
More Cosmetic Dentistry Options to Enhance and Brighten Your Smile
If you'd like a shinier, brighter smile, porcelain veneers are a permanent solution for discolored teeth. In just a few visits, you'll have bright, straight, permanent teeth. It's a great procedure for people with gaps or broken teeth. We can help create your new smile.
Dental Bonding for Smile Enhancement
Cosmetic dental bonding offers help for chips and cracks by using resin to fill in the missing portion. Bonding is an efficient, non-invasive, and effective procedure that produces a noticeable improvement without high costs.
We'd love to invite you to a free consultation to see exactly how we can improve your smile. Since our teeth are one of our greatest assets, it's well worth the minimal investment in your future. Looking great and feeling great with a smile makeover is fast and easy with our many services and options. Get in touch with Lovett Dental North Heights at 832-617-5531 to see the difference we can make in your smile today.