Teeth straightening is an essential step in improving your dental health and overall confidence with your smile. One of the ways you can achieve this is through clear aligners. These are small trays inserted into your mouth to shift your teeth into the proper position gradually. Clear aligner trays are a useful dental tool and can provide exceptional support for you in the process of improving your alignment. At Lovett Dental North Heights, we can offer solutions for achieving this goal. Contact our team at 832-617-5531 today to learn more about our specialty dental services.
When Can Clear Aligners Work for You?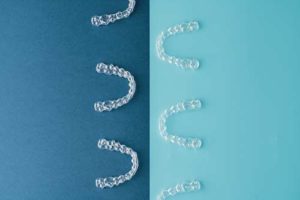 There are many situations in which clear aligner trays can be helpful. These trays are made of clear acrylic material. As a result, they are very durable. They can be used in both older children and adults. You may benefit from them for teeth straightening for problems such as:
Overbite
Underbite
Teeth gaps
Teeth crowding
Open bites
Crossbites
If you have any type of misalignment, we encourage you to reach out to us to learn if clear aligners can be an effective solution for you. For many people, they can be an excellent choice.
Can Clear Tray Aligners Improve Your Smile?
Clear aligners are designed to be very effective in the way they work. When they are in place, the tray's design applies direct and very specific pressure on your teeth. This pressure does not hurt, but it does encourage the teeth to shift into the proper position. When that happens, you end up with a straight tooth and an improved overall smile. Clear tray aligners are likely to need to be replaced over time as your teeth move into their desired position.
What Are the Advantages of Using Clear Aligners?
There are other types of orthodontics available. These products all work for teeth straightening. Yet, clear aligners offer a few key advantages of other products that make them hard to pass up on when it comes to improving your smile. Some of the key benefits of clear aligner trays include:
Hard to see, so no one knows they are there unless you tell them
The removable design allows you to take them out for photos or for brushing your teeth
The durable and robust quality of these trays means they are long-lasting and difficult to damage
You can eat nearly anything you want using these trays
Typically, these aligners can work very quickly at moving your teeth into place
There are some limitations to these types of teeth straightening products. Our team needs to ensure they are a good fit for you by providing you with an x-ray and an exam. Most of the time, they can work well, though they tend to cost a bit more than metal or ceramic braces. They are also less likely to cause discomfort, unlike braces. There's no painful tightening procedure here.
Teeth straightening can be a valuable investment for your dental health. It also feels good to know your teeth are correctly aligned. With clear aligners, you know that's the case. To find out if clear aligner trays are a good option for you, it is essential to work with a dental team specializing in them. Please get to know our orthodontic team and the wide range of teeth straightening solutions we offer.
Call Lovett Dental North Heights for an Appointment
Teeth straightening is not as complex as you may think. There are solutions, like clear aligners, that may give you the smile you desire. Clear aligner trays are one of the many dental services we offer at Lovett Dental North Heights that can significantly improve your smile. Our team is happy to help you to learn more during a consultation. Call 832-617-5531 to set one up today.